So excited to announce that we will be launching our new Spot Erase product soon, join our mailing list...
Some Of Our Favourite Reviews... Find Out Why We're Celebrating!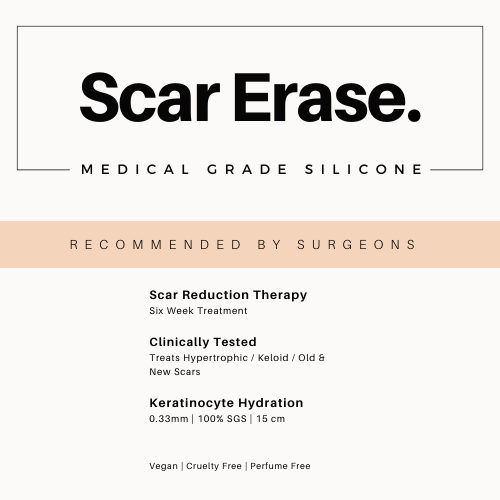 Today, we want to talk about the
science
behind why medical grade silicone works as a scar reduction treatment and share some of our favourite
Scar Erase
Google reviews.
Medical grade silicone has been used for years in the medical field for wound care and as a scar reduction treatment. The silicone creates a protective barrier over the scar, which helps to hydrate and soften the skin while also reducing inflammation and redness. This, in turn, helps to flatten and fade scars over time.
So, why choose
Scar Erase medical grade silicone strips
? Our strips are made with the highest quality medical grade silicone and are designed to be easy to use and effective. Simply apply the strip to your scar and let it work its magic while you go about your daily routine.
But don't just take our word for it - here are some
Scar Erase
Google reviews from real customers:
- "I had a really bad scar from a surgery that I was really self-conscious of. I tried everything to reduce it, but nothing worked until I found Scar Erase. After just a few weeks of using the strips, I could see a noticeable difference. I'm so glad I found this product!"
- "I have been using Scar Erase for a few months now and I am amazed at the results. My scars have faded so much and I feel so much more confident in my skin. I would recommend this product to anyone looking for an effective scar reduction treatment."
- "I was hesitant to try Scar Erase at first, but I am so glad I did. The strips are so easy to use and they really do work. I have seen a significant improvement in the appearance of my scars and I couldn't be happier."
Go check out the reviews for yourself and if you have any questions about Scar Erase or medical grade silicone, please don't hesitate to reach out! We love to hear from you.