So excited to announce that we will be launching our new Spot Erase product soon, join our mailing list...
Laura's abdominoplasty tummy tuck (with pictures)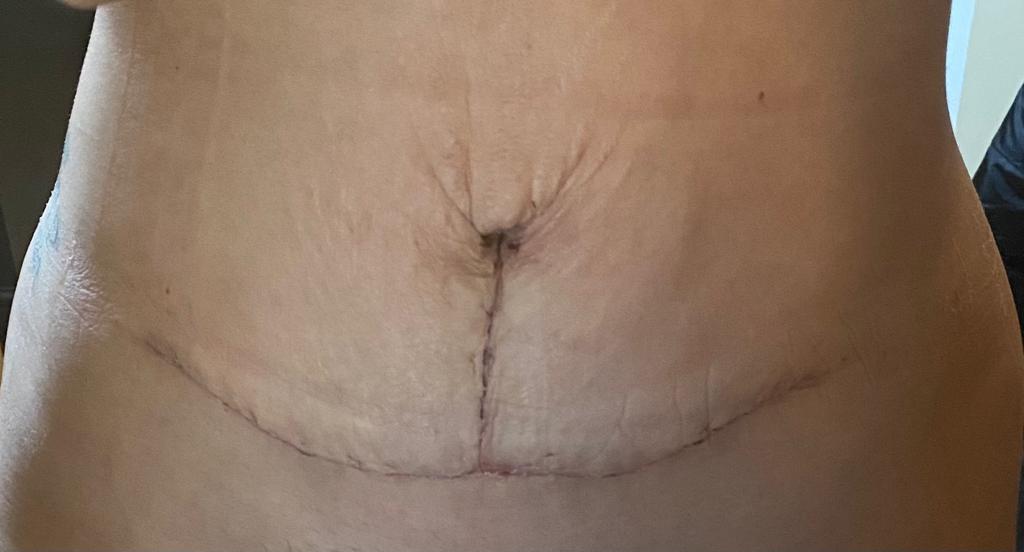 In 2020 I had a tummy tuck and this is how it went…
I have big babies! My largest baby was 10lb 5oz and my tummy was so big I thought it would split... Luckily it didn't, but my tummy was left pretty damaged after 5 children.
I had lots of physio and put in hours at the gym but I was left with lots of wrinkly, crepe-like skin.
I also had a large separation in my abdominal muscles and this made my core very weak. I was struggling to lift and my back was always aching (not ideal with 5 children). I decided to bite the bullet and go for an abdominoplasty (tummy tuck).
I researched long and hard before I found my surgeon. Booked myself in and went for it! I didn't think much about the scars because I was so unhappy with my tummy the way it was… I figured anything would be better… do not underestimate how you'll feel about scars is my advice!
Recovery was quite hard (I had an 8cm separation that was sewn back together by my surgeon) but after week 3 post op I started to turn a corner and slowly get back into everyday life (whilst being very careful). My surgeon recommended silicone treatment for my scarring, something I hadn't heard of before. I did some research and couldn't believe how many clinical studies backed silicone as the first choice for people to use to reduce scars! My mind was blown - until now I had always assumed you get a scar and hope for the best. I wanted to show you my healing journey of using scar erase
Here is my scar 10 weeks post surgery:
As you can see I had to have a full anchor scar due to the need to repair the abdomen muscles. It was at this point when the scar had fully healed, that I felt ready to begin the treatment.
Here is my scar after 8 weeks of using Scar Erase for 12+ hours a day:
It had faded and lightened it significantly, I also noticed it had also started to smooth out a lot of the bumpy raised bits around the scar.
I continued to use the treatment for a further 6 months.
Here is my scar after a total of 8 months of treatment:
My scar has flattened and faded significantly.
You can see that my vertical scar is a little darker still… this is my fault entirely! I sunbathed and did not apply adequate sun screen to my scar. Scars darken very quickly with sun exposure (lesson learnt!) I will continue with Scar Erase on my vertical scar to lighten it again.
I'll keep you updated!